Rules- Rules -Rules
know the rules
I have put the Rules here to make it easy for you.
---
Rule Knowledge
KNOW AND STUDY THE RULES - FREQUENTLY
DO NOT ASSUME YOU KNOW EVERYTHING - READ THE RULE BOOK AND CASE BOOK COVER TO COVER
A CREED FOR OFFICIALS
TO KNOW FULLY THE RULES AND ACCEPT OFFICIATING PROCEDURES FOR EACH SPORT IN WHICH I SERVE AS ARBITER.
TO BUILD MY GAME SCHEDULE THROUGH MY ACCEPTED WORTH, POTENTIAL POSSIBILITIES AND INHERENT CHARACTER RATHER THAN THROUGH TRANSITORY ACQUAINTANCE OR TRADING OF FAVORS OR ATTEMPTED PRESSURES.
TO HONOR EVERY CONTRACT, EVEN THOUGH THIS MAY OCCASIONALLY RESULT IN FINANCIAL LOSS OR LOSS OF OPPORTUNITY TO WORK FOR A LARGER SCHOOL OR ONE INVOLVING LESS TRAVEL
TO KEEP MYSELF PHYSICALLY AND MENTALLY FIT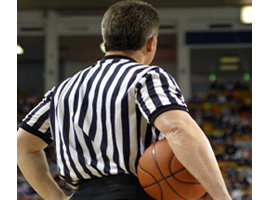 TO BE SYSTEMATIC, PROMPT AND BUSINESS-LIKE IN ALL MY DEALINGS WITH THOSE I SERVE
TO WEAR ACCEPTED OFFICIAL'S ATTIRE AND TO MAINTAIN A NEAT AND CREDIBLE APPEARANCE
TO ACT IN SUCH A WAY AS TO BE A WORTHY EXAMPLE TO THOSE UNDER MY SUPERVISION
TO REMEMBER THAT MY RESPONSIBILITY ALSO EXTENDS TO MY FELLOW OFFICIALS AND THAT I MUST WORK AS ONE MEMBER OF THE TEAM
TO MAKE MY DECISIONS PROMPTLY BUT WITHOUT SNAP JUDGMENT, FIRMLY BUT WITHOUT ARROGANCE, FAIRLY BUT WITHOUT OFFICIOUSNESS; AND TO BASE THEM UPON THE RULES REGARDLESS OF THE TYPE OF SCHOOL, THE CLOSENESS OF THE SCORE OR THE OPINIONS OF PARTISAN SPECTATORS
TO KEEP IN MIND THAT MY FIRST CHARGE IS THE SAFETY AND GENERAL WELFARE OF THOSE UNDER MY SUPERVISION
Top